The second China International Violin and Bow Making Competition took place from 7 to 22 September, 2013 in Beijing, China.
Host by Beijing Municipal Committee of Publicity Department, State-owned Cultural Assets Supervision&Administration Office of the Beijing Municipal, Beijing Federation of Literary and Art Circles, The Government of Beijing Pinggu District, China Musical Instrument Association and Central Conservatory of Music, the competition provides an unique opportunity for many skilled violin makers from around the world to showcase their work and talents embodied in the handcraft instruments.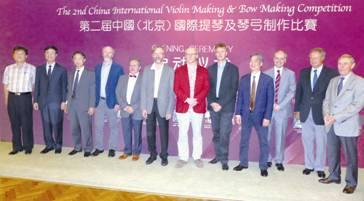 The panel of jury, headed by Chinese violin-making Maestro Mr.Zheng Quan, consists of renowned makers and musicians from around the world including Primo Pistoni, Bernard Millant and Lv Siqing among several other violin masters and players.
A total of 238 instrument makers from 11 countries took part in the competition with nearly 400 works. The final of the competition was held on Tuesday. Following that will be an awards concert at the National Center for the Performing Arts on Wednesday.
The winning instruments which received gold medal were played by world-renowned string instrument soloists accompanied by the Chinese Symphony Orchestra. All the participating instruments are displayed in the Exhibition Hall of National Center for the Performing Art till September 21.