On January 23, 2013, the fourth bilateral talks took place between China Musical Instrument Association (CMIA) and the European Confederation of Music Industries (CAFIM) in Anaheim, United States of America. Around 20 Chinese and European representatives were present at the meeting.
The two sides positively discussed around seven mutually-concerned topics on intellectual property protection, customs import tariffs, the promotion of music education, the Appraisal Standards of Tone and Quality of Musical Instruments, standard on limiting dangerous amount of musical instruments harmful substances, military band contact and exchange of music industry information.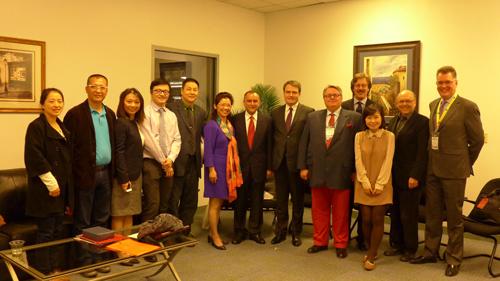 Nearly 20 industry representatives from China and Europe were present at the meeting including An Zhi,president of CMIA;Xiao Wei, deputy General Manager of Guangzhou Pearl River Piano Group;Chen Jinwu,managing director of Beijing Research Institute of Musical Instrument;Huang Maoqiang,Director of CMIA Music retail Subcommittee and General Manager of Sichuan Shenyin Music and Antoine Beaussant, CEO of Buffet Crampton Group, President of CAFIM, Board member of Chambre Syndicale de la Facture Instrumentale (CSFI);Claudio Formisano, CEO of Master Music, Vice President of CAFIM and President of DISMA;Winfried Baumbach,Secretary General of CAFIM;Juan Gregos, President of Comusica; Stein Burkhard, CEO of Grotrian-Steinweg, President of Bundesverband Klavier (BVK).